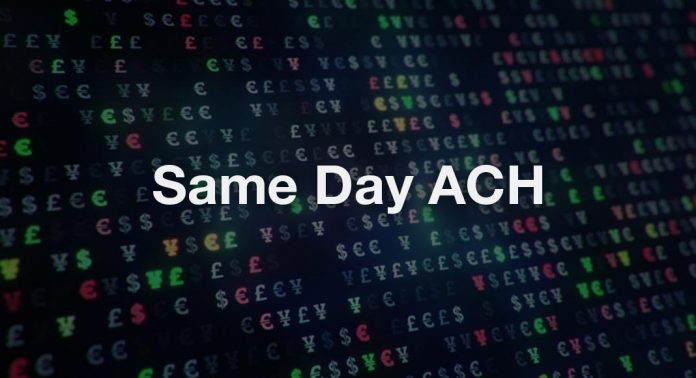 The National Automated Clearing House Association (NACHA), the not-for-profit association in the U.S. that represents nearly 11000 financial institutions and 11 regional payment associations has announced its latest ruling – same day ACH clearance
NACHA manages the development, administration and governance of the ACH Network and is referred as the very backbone of the electronic movement of money and data across America.
It is governed by the NACHA Operating Rules, a set of rules that guide risk management and create certainty for all participants.
Launched through its steward organization, the Electronic Payments Association®, the new feature equips the ACH Network to handle same day send/receive money and data messages thus bringing much relief to businesses, individual customers and other participating stakeholders.
The Same Day ACH payment option has been introduced after a successful test and trial run use that lasted 12 months, and has been certified by ACH as effective to pay bills faster.
The reporting feature adds to the consumer the accurate feedback on the  availability of account balances after debits.
Same Day ACH debit payments enable a variety of transactions such as an urgent bill payment, faster payments for Internet and point-of-sale purchases, and invoice payments.
Until now, all ACH debits have been "next-day" payments; that is, transactions are completed one day after they are initiated.
"After a successful year of Same Day ACH credits, we are excited to implement Same Day ACH for debits and continue to expand this faster payments option in the U.S.," said Janet O. Estep, president and CEO of NACHA.  "With debits accounting for almost 60 percent of overall ACH volume, we expect that use of Same Day ACH debits will grow and become a faster payments method that benefits all users of the ACH Network, from financial institutions, businesses of all sizes, to governments and consumers."
92 percent of NACHA's top originating depository financial institution members will be ready to originate Same Day ACH debits with immediate effect and 100 percent of all U.S. receiving depository financial institutions are required by the rule to be ready to receive the payments, observed a research survey finding done by the association.
The same day ACH ruling has also set in motion a timeline towards implementing the third phase of the application, which has earmarked March 16, 2018 as the deadline, and would require funds to be processed under same day credits to be made available by 5.00 pm local time.

>