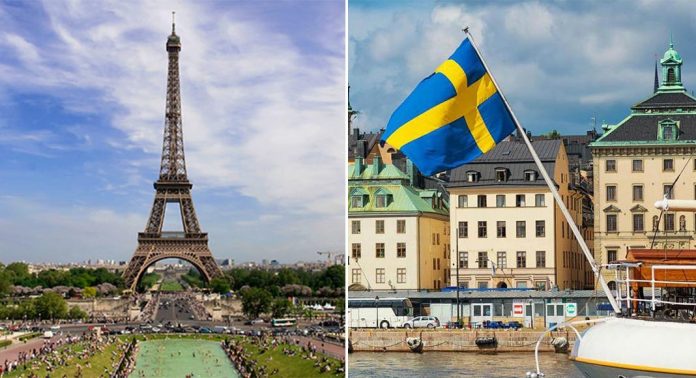 One man's meat is another man's poison appears to be true in the case of Britain's divorce from the EU.
With Brexit fast closing in, France and Sweden gains a commercial edge in the EU with a boost in their share of fintech deals within member-nations.
According the research findings by CBInsights titled, 'European Fintech Trends', UK has fallen from her 45% share of fintech deals garnered in 2014, to an abysmal low of 34% – marking a distinct loss for Britain within the Union, affecting several British banking and financial technology service start-ups and majors.
However, the Union Jack still flies high across the landscape with her 30+ shareholding figure.
France and Sweden quickly grabbed the opportunity of Brexit and has made their fintech footprints larger gaining up to 5% and 3% points respectively within EU. France now holds a 11% share and Sweden, 12%.
The study shows that so far, in 2017, venture capitalists have invested up to $2.6bn, surpassing the previous record and more than doubling the total amount raised in 2013.
CBInsights forecasts the investment figure to cross $4bn in fintech deals, end 2017.
As the negative impact of Brexit spreads, industry banners have pointed out their inability to access European Investment Fund, the EU-run source of venture capital.
This has had a fall-out amongst the firms that are also facing potential difficulties in the recruitment of skilled workforce from abroad.
The report also highlights a number of other fintech trends, such as the rise of insurtech where financing increased from $13m in 2015 to $129m in 2016 and looks set to rise further this year.
Meanwhile,  Brexit saw the development of Blockchain projects move to another higher level.
With massive growth from France, Sweden, Ukraine and Estonia supported fintech windows coming in, the EU activity will give rise to new trends and beneficiaries.
Of notable interest will be the rising trend in Switzerland to switch over to the  Blockchain knowhow and emerge as the next hub of choice within Europe.
"Switzerland has proved itself a regulatory haven for blockchain startups, while the technology's decentralized funding mechanism lends itself to borderless innovation," states the report.
Like they say, some people bring good tidings (to others), when they leave.

>