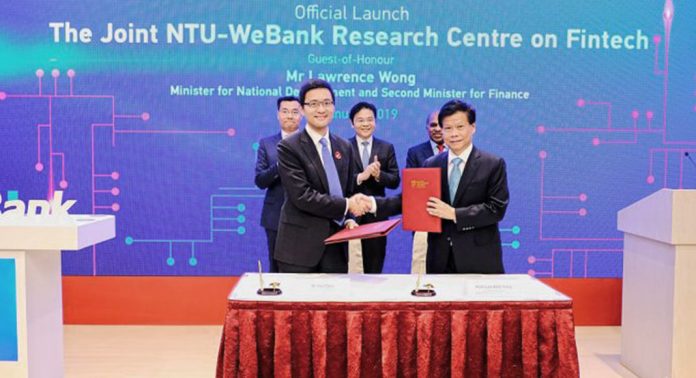 China's first digital-only bank WeBank has teamed up with Singapore's Nanyang Technology University (NTU) for a fintech research centre to develop machine-generated personalized financial insights and services for its customers.
Launched by Lawrence Wong, Singapore's Minister for National Development and Second Minister for Finance, the joint research centre will also research on blockchain technology adoptation, and develop new means of digital financial services using the Internet of Things and machine learning technology.
David Ku, chairman and CEO of WeBank, said: "We believe fintech could bring more possibilities for inclusive finance. The same belief (shared by) NTU Singapore and WeBank will propel both to further drive innovation and optimise the financial services space. The joint research centre can also add to the diversity of the world's fintech eco-system."
"Our collaboration with WeBank aims to tap NTU's research expertise in finance, behavioural science and deep tech to create more opportunities for all," said NTU president Subra Suresh, in the media statement.

>