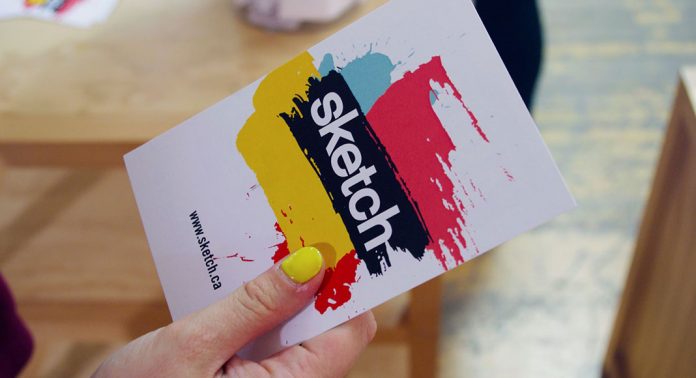 Giving back bestows more pleasure to the soul.
Sibos strongly believes in and understands the importance of corporate social responsibility (CSR).
Sibos also values and recognizes the dynamics of holistic development of  society.
As it does every year, Sibos 2017 too saw the expo's CSR initiative embracing a local art community to donate a contribution of value into the lives of the under-privileged in the host city.
The organization chosen this time is SKETCH, an art community that engages young artists of promise living on the fringes of the society – mostly homeless, poverty-stricken and marginalised – and helps them experience the transforming power of the arts.
To the 20-year-old, award-winning art enterprise, the charity group, SKETCH, Sibos will thus contribute :
To build leadership and economic self-sufficiency in the art.
To cultivate environmental and social change through art.
To build creative communities and shape a better future.
The Sibos offer to SKETCH is the free use of a space at the Sibos Art Gallery located on the bridge that connects the Metro Toronto Convention Centre's North and South Buildings. The artists from SKETCH will display their artworks at this venue.
Said SKETCH Artistic Director, Phyllis Novak, " We're thrilled that five participating SKETCH visual artists have been given an international platform at Sibos 2017, to exhibit vibrant, thought-provoking artwork for the global financial community. Taking notice of and engaging marginalized voices not only supports young people's passage out of poverty and homelessness, but drives local economies and creates inclusive neighbourhoods and communities."
Sven Bossu, Head of Sibos, SWIFT, added: "Engaging with the local
community is a big part of Sibos. The creative, community-driven  entrepreneurial spirit that drives SKETCH embodies Sibos and this year's
theme: Building for the Future. We hope that delegates will be inspired to establish creative communities on their own to understand the forces impacting the financial world and solve the challenges we face".
The delegates are also given another opportunity to support SKETCH by playing ice-hockey themed digital game at the SWIFT stand as each game played will get €30to SKETCH.
'Art teaches us the significance of life'. That, in essence, would be the mantra for social commitment at Sibos this year.
Bless you, Sibos!

>