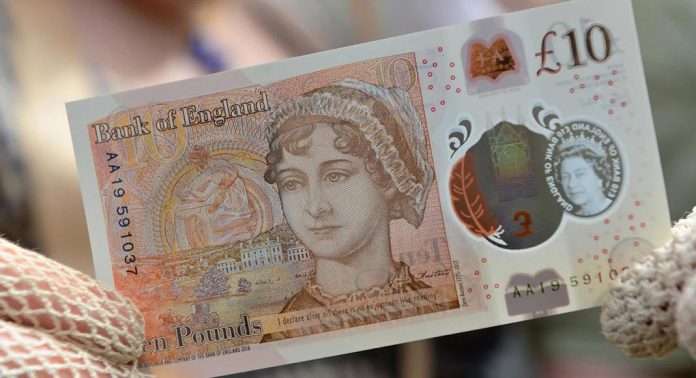 Jane Austen's airbrushed portrait replaced the image of Charles Darwin to become the only other women apart from the Queen to be featured on the bank note of England.
The women activists gained a small victory as Jane Austen joins a rather short list of historically important women to embellish the English bank note since 1970.
Florence Nightingale and Elizabeth Fry are the only two women other than the Queen who precedes Austen.
The new £10 bank note introduced on 14, September 2017includes the portrait of Jane Austen on the reverse side with the image of her writing desk and quills, her brother's home, Godmersham Park and of course the quote.
Analysts feel, the celebrated image reproduction immortalizes the words of the obnoxious character, Miss Bingley, from the author's book, Pride and Prejudice.
Miss Bingley, who is not even fond of reading says,' I declare, after all, there is no enjoyment in reading', just to impress Mr. Darcy.
As the quoted remark made its way through the coffee house circuits and literatti discussions, opinions surfaced that the words are not a true representation of the England's greatest author.
However, the Governor of Bank of England seems to have a different opinion, "…the new note celebrates Jane Austin's work." said he, highlighting the launch.
As he continued, the words of the Governor also reverberated the general public opinion. "Austen's novels have a universal appeal and speak as powerfully today as they did when they were first published."
Launched for the first time in England as a Pound Sterling bank note with a special tactile feature that helps the blind and the visually impaired, the new £10 currency note is polymer material based and thus is estimated to be stronger and long-lasting.
Bank of England's security experts have also made sure that new bank note is difficult to counterfeit and has applied high-tech features including the silver hologram embedding.
Victoria Cleland, Chief Cashier, Bank of England, said, the moments are "exciting….and even more poignant, being launched during the 200th anniversary of her (Jane Austen's) death."
Expressing her gratitude to the cash industry for their support to print cleaner, safer, stronger notes for public use, she announced that the notes featuring Charles Darwin will gradually be withdrawn from the circulation by Spring 2018.
According to her, the public will be given adequate notice, even up to 3 months, to change the old notes into new.
Incidentally, the planning of the smooth transition from the current 'Charles Darwin' £10 note, to the new 'Jane Austen' version is hailed as a perfect contrast and model lesson to be emulated – as opposed to the 'chaos and confusion' created by the overnight demonetization of the Rs.1000 and Rs.500 currency notes, which were in circulation in India till Nov 8, 2016.

>